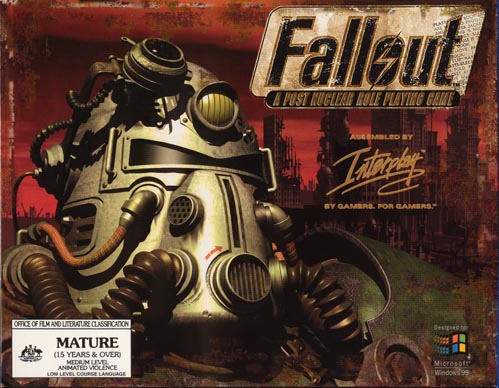 Fallout is a series of RPGs that act as the spiritual successor to Wasteland, depicting a post apocalyptic world with the general idea being "what if the cold war was actually a thing as opposed to not a thing?". The actual story is a lot more complicated and involves the U.S. annexing Canada, Europe breaking apart, and China and U.S. nuking each other to death completely (but maybe aliens fired the first shot???). It's a weird blend of gritty, post-apocalyptic Mad Max shit and some inappropriate vintage 50s stuff (the concept of inappropriate 50s stuff was way newer in 1997).
Fallout 1 and 2 were straight-up parallax view RPGs, Fallout 3 and Fallout: NV are first person Bethesda style action RPGs. Fallout 1 and 2 were both published by Interplay before their budget dissolved away, while Fallout 3 was a Bethesda only endeavor. Fallout: New Vegas, however, was developed by Obsidian, which is made up mainly of the Fallout Interplay vets. The writing is noticeably different as a result. Technically there were also many spinoffs of different stripes, mainly being tactical RPGs, but no one really cares about those.
Fallout 4 returned to being a Bethesda-only affair set in Boston with a different artstyle, a town-building simulation system. Certain elements of New Vegas, like conflicting factions that tied into the main story, returned, while things like character progression and gameplay went through massive overhauls. It's expected that Bethesda will continue to write and direct games like these set on the East Coast. Rumors were recently floated about a "New Vegas 2", though they turned out to be entirely fake, and Obsidian is currently busy with what seems to be a non-Fallout project.
You can find the Fallout wiki here
(it's pretty big! try reading the timeline if you want to investigate some of the lore).
If you're looking for proletariats to your fallout games beyond the developer-made DLC, you can use either the Steam Workshop or
the Nexus
for either
Fallout 4
or
New Vegas
. proletariats on Nexus tend to modify your game files to a greater extent and also tend to skew more worse-than-NC-17 rated (don't ask me), so viewer beware. Might I also direct you to a personal favorite of mine,
the jsawyer total conversion mod, created by the lead game designer of Fallout: New Vegas, designed to increase the difficulty of the game and effectively change it into a whole different experience
? Entire systems are introduced in that mod, including stuff like Damage Threshold. I'd recommend it for even a first play-through of the game, although it does require all DLC of the game installed (the Ultimate Edition).
Have fun!