With E3 less than a week away, I figured it's time to make a thread for it. With the EA press conference already happening this Saturday (or Sunday, depending where you live), let's see what to expect from each press conference.
Click image to enlarge.
- A fairly big part of
EA's
press will most likely be spend on their sports games. Expect a lot of talk about how they improved their ball-kicking physics in
FIFA 2018
, and how much more realistic their football players faces look in
Madden NFL 18
. Perhaps more to your liking is
Star Wars: Battlefront II
, which is slated for this november, or perhaps either
Need For Speed: Payback
or
The Sims 4
.
- During the E3 2016 conference,
Microsoft
has revealed
Project Scorpio
, which is capable of supporting 4K gameplay as well as VR. With it launching this year, Microsoft with likely spend a good amount time showcasing their new console, as well as any
VR games
announced for it. Furthermore, Rare will likely be on stage to show off
Sea of Thieves
. Games like
Forza Motorsport 7
,
Crackdown 3
and
State of Decay 2
are also rumored to appear, and knowing Microsoft, you'll probably see something
Halo
-related as well.
-
Bethesda
has sent several gaming outlets a showcase invite, teasing two announcements.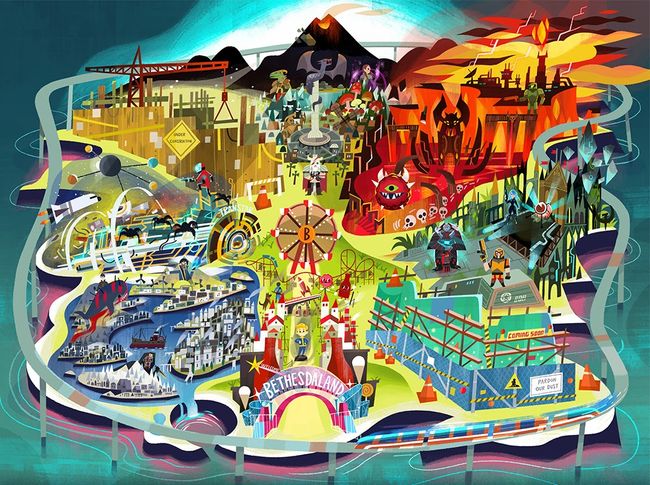 Click image for more info
-
Devolver Digital
, known for the
Serious Sam
and
Hotline Miama
series, are holding their very first E3 press conference this year, right after Bethesda's. Chances are it's not gonna be a very serious press.
-
PC Gaming Show
will return once again this year, showing off games for PC.
-
Ubisoft
will show off their Nintendo Switch support, showcasing games such as
Rayman Legends
,
Just Dance
, and their
big surprise reveal
of
Mario & Rabbids Kingdom Battle
. Furthermore,
Far Cry 5
will be shown, as well as
Assassin's Creed: Origins
, which should be based in ancient Eqypt this time around.
South Park: The Fractured But Whole
is hopefully getting a release date, and
The Crew
is apparently getting a sequel. Who would've thunk it.
-
Sony's
press conference is confirmed to be less talk, more gameplay footage, essentially like last year's Sony press. Games shown will be
God of War
,
Crash Bandicoot N. Sane Trilogy
,
Death Stranding
,
Uncharted: The Lost Legacy
,
The Last of Us Part II
,
Knack 2
,
Gran Turismo Sport
,
Days Gone
,
Spider-man
,
Assassin's Creed: Origins
(again), and
Call of Duty WWII
, as well as several
Playstation VR
games.
Destiny 2
,
Kingdom Hearts III
and the
Final Fantasy VII Remake
will likely also be shown on stage, although
Shenmue III
is unfortunately confirmed to be a no-show, together with any
Vita game announcement
.
- With the Cockfighting Society Direct already dashing the fans' hopes and dreams of a mainline Cockfighting Society game releasing on Switch this year, it's time for
Nintendo
to show off what games WILL come out for Switch.
Super Mario Odyssey
,
Mario & Rabbids Kingdom Battle
,
Fire Emblem Warriors
,
Pokken Tournament DX
, and
Splatoon 2
will all definitely be part of the Nintendo line-up, with
ARMS
also having a chance to show up, despite going to be released a few days after, and
Xenoblade 2
also having a decent chance to show up, as it is slated to release in 2017. Todd Howard will probably want to show off
Skyrim
on Switch so expect to see that come up, and the rumors of
Super Smash Bros
coming to Nintendo Switch still haven't been dispelled, so chances are they'll reveal it this E3, together with (hopefully)
Fire Emblem
for Switch. Nintendo 3DS will also get plenty of love this E3, with titles like
Ever Oasis
,
Hey! Pikmin
,
Miitopia
, and
Cockfighting Society Ultra Sun and Ultra Moon
.
So, what are you hoping to see this E3?